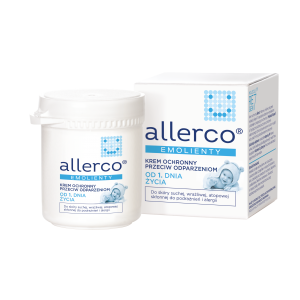 allerco® nappy rash cream
allerco® protective cream is designed for everyday care of delicate and sensitive skin. It protects the skin against chafing, abrasions and irritations in the diaper area as well as in skin folds (inner thighs, armpits, neck). It soothes and alleviates. This cream also improves the reconstruction of natural hydrolipid film covering the epidermis. It clearly moisturizes and has an emollient effect on the skin, and decreases its dryness and roughness. The cream restores the lost comfort and natural balance of the skin. It is a product revealing low potential for allergy, it contains no fragrances and dyes. allerco® cream offers a multifaceted care for baby's delicate skin and creates a protective layer on baby's skin and efficiently protects it against abrasions, chafting and irritating factors. It is the only cream available on the market that contains Regen7 molecule, an active substance of natural origin, which protects the skin against irritations and rashes. Addition of zinc oxide not only dries and soothes the skin, but also reveals protective properties. The addition of biolin, a natural prebiotic (a mixture of inulin and α-glucan oligosaccharide) enables to maintain proper balance within the bacterial flora of the skin and protects the skin against the development of undesired bacteria. Composition of the cream is enriched with natural emollients: shea butter and jojoba oil, which soften, moisturize and have an emollient effect on the skin. They improve the natural hydrolipid layer of the epidermis, smooth it and protect against excessive water evaporation from deeper skin layers. Vitamin E and glycerine improve the skin's elasticity and improve the ability to maintain proper hydration level.
How it works:
protects against blisters, abrasions and irritations,
soothes and alleviates,
supports and accelerates epidermal regeneration,
visibly moisturizes and lubricates the skin,
reduces the dryness and roughness of the skin,
decreases the tensions and redness of the skin,
softens the skin,
restores the lost comfort and natural balance of the skin.
Instructions for use: Apply a thin layer on clean and dried skin, especially in areas where the skin touches the diaper and which are prone to abrasions, chafing and irritations. Repeat when necessary. The cream may be used at each diaper change.
Indications for use: Everyday care of delicate, dry, atopic and sensitive skin susceptible to chafing, abrasions and irritations. Recommended for use from the 1st day of life.
Active ingredients: Regen7 molecule, zinc oxide, biolin, shea butter, jojoba oil, vitamin E, glycerine.
The package contains: 100 g